Welcome to The Savvy Celiac. Where we help smart people become savvy celiacs.
Whether it's gluten free news, lifestyle and recipe questions, medical research, school tips, eating out, or discussing the disease symptoms that come with having celiac. Our one goal: to empower you to live a healthy gluten free life.
AmyLeger on May 18th, 2013
It is a good day.  Disney Channel did the right thing late last night when it pulled its episode of Jessie.  
The episode depicted the stereotypical "nerdy" kid as being gluten free.  Then both kids and adults on the show picked on him for it. I wrote more in depth about the episodes contents  yesterday.  You can see that article here.
But this morning Disney Channel's Facebook page reported this.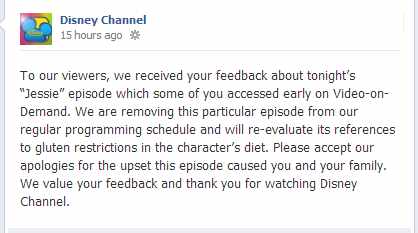 There are more than 500 comments from people both for and against pulling the episode.  Many of the comments are very harsh from people who are clearly uneducated about the issue.  If you want to read them you can do so on their Facebook page.
What I liked about Disney Channel's statement was that it was direct, apologetic and didn't make any excuses.  Thank you Disney for making the right decision.
Tags: celiac, Disney Channel, gluten-free
AmyLeger on May 17th, 2013
It has been a big week with some big-name headlines regarding celiac disease — I think there are lessons to be learned in both respects.
Disney Uses Gluten Free for Comedic Gain
(5.18.13 Editorial note:  Disney took action on this matter.  See update here.)
First, a mom of a child with celiac disease has started a petition to get an episode of Jessie from The Disney Channel pulled from circulation for how it portrayed a character who is gluten-free. The boy asks is if the pancakes are gluten free and the chef and kids eventually pick on him for it.  The petition on Change.org started by Amy Raslevich explains,
"Their [kids who need to eat gluten free] condition is real, and their feelings are real. They are ostracized for a condition for which they did not ask, and because of which they will spend their entire lives having to make exceptions and special requests, all to keep them healthy and safe. They will often feel excluded or different, because they have to be to avoid serious illness.  Yet Disney gave children permission, and an example, to further isolate my children and others like them because of their medical conditions."
I had my celiac daughter watch it and she agreed, the tone seemed cruel.  My feeling was that it was in poor taste, but it was made even worse by making sure the gluten-free character was dressed like a stereotypical nerd conveying that you aren't cool if you are gluten-free.  You can search "Jessie Quitting Cold Koala" on You Tube and see it, or you can go to GlutenDude.com where he cuts to the chase pretty quickly.
This is a far cry from Iron Man saying he ate gluten-free waffles (in IM3), which (and I haven't seen the movie yet– but it will happen) shows the cool guy eating gluten-free as opposed to only the geeky kids have intolerances to food.
Today, a lot of the comments I have seen on the subject surround how places like Disney World make gluten-free folks feel so included at their theme parks, yet Disney Channel picks on gluten-free kids.  Disney's brand is about family fun.  Right?  Maybe I am too jaded but I am sure the writers, producers, and actors of Jessie have no idea about how supportive the Disney Parks & Resorts side of the conglomerate is  toward gluten-free diets.  I am sure one hand does not know what the other hand is doing.  I am not saying it is okay, I am just saying that's probably just the way it is.
I took some time to sign the petition.  You can go to the petition here if you are interested in signing it. 
What lessons can be learned?  Disney needs to tread lightly on their comedic waters.  Offending the very audience who are the ones who watch  Disney Channel, go to Disney movies and fly to Disney World is not a good idea.  They should pull the show, issue an apology and move on.
Celebrity Chef's Restaurant Pays Up for Gluten-Free Gaffe
Jamie Oliver may be best known in the United States for his turn as a celebrity chef with Jamie's Food Revolution on ABC and the Naked Chef.  But Oliver's restaurant in England called Jamie's Italian is paying $12,000 to a patron for mistakenly feeding her gluten-filled noodles.
The Telegraph in the UK reports customer Kristy Richardson told the restaurant three times she couldn't eat gluten. But the waitress thought she only needed a vegetarian meal, and didn't  understand it was gluten-free and vegetarian.  Richardson was subsequently served a plate full of regular noodles.   As The Telegraph reports, Malcom Gibney of Portsmouth City Council Trading Standards, told the court,  "But within a couple of hours Mrs Richardson started to feel nauseous and continued to vomit over the next four or five hours…As a result she suffered a very nasty reaction and an auto-immune response to other medication she had."
I know we all take a chance when we go to a restaurant.   My problem lies in restaurants who tout their gluten-free options and then don't deliver.  It makes me wonder if restaurants (in the UK or not) are reading this and wondering when a lawsuit could be headed their way.  It is just a matter of time for this to happen here.  If someone can sue McDonald's for serving hot coffee…someone can sue about misrepresentation of a gluten-free menu.  Anyone want to start predicting some dates.  I'll go first, I bet it happens in the next 2 years. 
Lesson learned for the restaurant industry (and for Disney for that matter)?  Take gluten free seriously.  When you advertise a gluten free menu or accommodations you shouldn't take that lightly.  Don't treat it like a fad thinking the folks won't notice anyway.  It may have truly been an accident at Oliver's restaurant, but I am guessing Ms. Richardson wishes she didn't have to be the one throwing up like crazy just to teach them a lesson.
Tags: celiac, Disney, entertainment, gluten-free, Jamie Oliver, restaurant
AmyLeger on May 3rd, 2013
More restaurants are coming forward and offering gluten-free pizza!  It sounds great, until I call and ask for more information about it.  Let's just say they aren't telling me what I want to hear.
Wednesday night I called two places near my home to inquire about their gluten-free pizza I heard they now had on the menu:  Broadway Pizza and Chanticlear Pizza in Blaine, MN.  Both phone calls were met with disappointment.
When I called, I asked for folks knowledgeable with the preparation of the gluten-free pizza.  When I began asking my questions, I was told in both cases, they have a gluten-free crust, but they use the same sauce and the same ingredients. This is a HUGE NO NO if you are making gluten-free pizza for a truly gluten-free customer.  I was so bummed about their uneducated answers that I didn't go any further (like do they use the same pizza cutter?  cutting board?)  Broadway told me their prep area was also the same.  I didn't ask that question to Chanticlear.
I explained to both companies that anyone who needs to eat gluten free (like my daughter with celiac disease) shouldn't be eating their pizza.  The rep from Broadway pizza basically told me "Yep, you're right, your daughter shouldn't eat the pizza."  At least the Chanticlear rep threw me a bone saying "I'm sorry".  I got the feeling they were completely uneducated about how to do gluten-free right.
What is wrong with this picture?  This is the same issue that happened last year (although much more highly-publicized) to Domino's Pizza.  They developed a so-called "gluten-free" pizza.  But have this disclaimer on their website, "Domino's® DOES NOT recommend this pizza for customers with celiac disease".
Wednesday night I saw a hash tag from Gluten Free Mike on Twitter that read #iamnotafad.   He tweeted "My burger tonight was sans bun and fries out of necessity because #iamnotafad. #celiacawareness #glutenfree #celiac"  I am feeling the same way about these pizza places.  And it's not just these two.  This is happening all over the country.  People with celiac disease and gluten intolerances are NOT a fad. I wish more restaurants respected that.
An article published last summer on BrandEducationServices.com did a good job explaining to restaurants the footwork they need to do BEFORE launching into the gluten-free arena — including– UNDERSTAND YOUR AUDIENCE!   Plus, it recommends being prepared to answer common questions like "How do you prevent cross contamination?"  The Gluten Intolerance Group and the National Foundation for Celiac Awareness both have programs to help teach restaurant employees how to work a safe gluten-free menu into your kitchen!  GIG has a Chef to Plate program going on this month so you can try food from educated restaurants and raise awareness at the same time!
I am only hoping that just by asking my questions and  expressing my concerns, the aforementioned restaurants will learn that they need to change their ways or soon a gluten-free customer will get VERY sick– that is if someone hasn't done so already.
Gluten-Free pizza ordering tips:  
Ask about the prep area, is it separate from the rest of the food?  Yes, it should be!
Do they share utensils?  They shouldn't be
Which ingredients are gluten free?  Some may not be gluten free to begin with…
Do they share ingredients like the sauce? Double dipping is not okay between gluten free and gluteny!
Do they use the same oven in which to bake the pizzas?  It is likely they do.  Find out any additional precautions they take in the oven and whether that is a risk you want to take.
Do they serve on a different tray or platter to alert the server which item is gluten free?
Tags: celiac, contamination, gluten-free, pizza